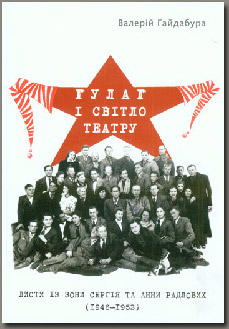 "The focus of Valery Haydabura is on the last tragic period of life of the known theater director Sergey Radlov – and his wife, a poet and translator, who invested new senses into Shakespeare's tragedies on the Soviet stage, Anna Radlova. During the war, evacuated to Pyatigorsk, the Radlovs – as well as most of the crew of Leningrad Lenrady Theater that Sergey was managing at the time – as a result of the rapid advance of the Nazis turned into a "precious trophy" of the enemy. In 1945, accused by the Soviet "justice" of betraying the motherland, the couple was cast to the GULAG camp.
The book contains letters of the prisoners in the Ukrainian translation, from which we learn about their creative work in the camp conditions. The author restores the composition and repertory of the theater ensemble, defines the typology of the theater behind the barbed wire.
The publication will be appreciated by everyone interested in the psychology of a theater director's vocation, theater pedagogic, the meaning of "GULAG Theatre" and work of great masters at it, as well as by those attracted by the epistolary genre magic."
In Ukrainian.
Type of the edition: hard cover
Format: 168x238 mm
Number of pages: 240, illustrated
Publisher: Fact, Kyiv
Contents:
Chastyna 1. "Tak rozkazhy pravdyvo..."
Chastyna 2. Ser i Volodymyr
Chastyna 3. Roland i Oliv'je
Chastyna 4. Dorobok
- Tvorchyy sklad Tsentral'noho teatral'noho ansamblju KVO Volhobudu
- Postanovky S.Radlova y A.Radlovoji (1946-1951)
- P.S. "Za nas Hospod' – my pravi"
- Pokazhchyk imen
Vkleyky:
- Fotorezerv-1. Leninhrads'kyy al'bom Radlovykh
- Fotorezerv-2. Via dolorosa
- Fotorezerv-3. Tabirnyy zoshyt Oleny Hnjedinoji