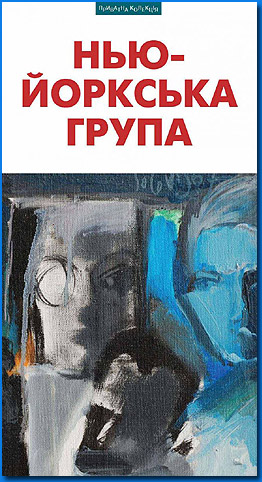 "The anthology of the New York group offered to readers makes it possible to better understand both the phenomenon of the group that arose outside Ukraine, and the artistic and philosophical innovations that its representatives introduced into the Ukrainian poetry and prose in the late 1950's and early 1960's having elevated them to the international level."
In Ukrainian
.
Type of the edition: hard cover, dust cover
Format: 143x272 mm
Number of pages: 400
Publisher: Piramida, Lviv

Contents
:
- Korotka istorija N'ju-Yorks'koji hrupy
- Bohdan Boychuk. Jak i poshcho narodylasja N'ju-Yorks'ka Hrupa (Do bil'sh-mensh desjatylittja)
- Bohdan Boychuk. Dekil'ka dumok pro N'ju-Yorks'ku hrupu i dekil'ka zadnikh dumok
- Interv'ju z chlenamy N'ju-Yorks'koji hrupy
- Bohdan Rubchak. Kam'jani baby chy Svitovyd?
- Maria Revakovych. Deshcho pro N'ju-Yorks'ku hrupu
- Roman Baboval. Zamist' vidpovidi
- Yuriy Tarnavsky. Avariy u mori (Pro mynule i suchasne N'ju-Yorks'koji hrupy)
- Maria Revakovych. Eros i vyhnannja
- Maria Revakovych. Kriz' inshu pryzmu: Pro fenomen i poeziju N'ju-Yorks'koji hrupy
POETYChNI  I PROZOVI TEKSTY, tvorchi biohrafiji:
- BOHDAN BOYCHUK
- YURIY TARNAVSKY
- BOHDAN RUBCHAK
- ZHENIA VASYLKIVSKA
- EMMA ANDIJEVSKA
- PATRYCIA KYLYNA
- VIRA VOVK
- YURIY KOLOMIJETS
- OLEH KOVERKO
- MARKO CARYNNYK
- ROMAN BABOVAL
- MARIA REVAKOVYCH