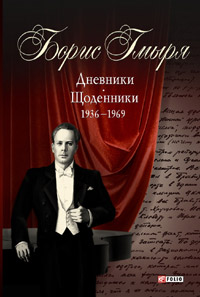 "We know about lots of cases of writers', poets', political leaders' writing diaries, but very few of them are known for singers, especially of such universal scale as B. Hmyrya was. Based on his entries (and he made them daily during 33 years), the singer arises through his doubts, worries, suffering, creativity, reflections. Briefly marking his successes and generously – his failures, Borys Romanovych hides nothing, so he is interesting for the reader, especially for those who begin their career on opera and concert stages.
The diaries are published in full for the first time – without outtakes. For the first time in the global music culture, one can see and track the laboratory of the vocalist's creative process, his methods and approaches in selecting and preparing pieces for being performed, professional analysis of concerts, opera performances, etc. But most importantly, in his diaries Hmyrya revealed and developed the philosophy of the vocal, the role and significance of the singer in his relationships with the listener (the audience). Supplemented with comments, excerpts from the press, letters of Hmyrya, his articles and so on, the diaries acquired the fiction literature form – interesting and exciting for the reader." Ganna Prince, the president of Borys Hmyrya Foundation
Language of the publication – Russian and Ukrainian, the languages in which B. Hmyrya did his diary entries.
Type of the edition: hard
Format: 146x210 mm
Number of pages: 880, illustrated edition
Publisher: Folio, Kharkiv
Contents:
- Ot sostavytelja y avtora soprovodytel'nykh tekstov, prezydenta Fonda Borysa Hmyry A. Prynts
- Ot nachal'nyka Hlavnoho upravlenyja kul'tury y yskusstv Kyevskoy horodskoy admynystratsyy Zorynoy S.
BORYS HMYRYA Y EHO DNEVNYKY
- Vstuplenye
- Osnovnye vekhy zhyzny y tvorchestva Borysa Hmyry (1903–1969)
Rannee detstvo
Rodytely Borysa Hmyry
Pervye shahy v yskusstve
Zhurnal "Ohonek"
Hmyrja-khudozhnyk
Sevastopol', Kerch'. Matros, kochehar, hruzchyk
Reshetylovka. Radyoynzhener
Pervye uchytelja akterskoho masterstva
V 24 let rabfak, v 27 – student stroytel'noho ynstytuta
Luhansk. Student-ratsyonalyzator
Kak, baten'ka, vy not ne znaete?
Hmyrja y narkom obrazovanyja Ukrayny Nykolay Skrypnyk
Khar'kov. Dyplomyrovannyy ynzhener-stroytel'. Aspyrant NYY sooruzhenyy
Narodnyy artyst SSSR – konsul'tant po stroytel'stvu y arkhytekture
Student Khar'kovskoy konservatoryy
Vsesojuznyy konkurs vokalystov (Moskva, 18.KhII.1938 – 3.01.1939)
Kyevskyy teatr opery y baleta – holhofa B. Hmyry
- Vklad B. Hmyry v sokrovyshchnytsu ukraynskoy kul'tury y utverzhdenye nezavysymosty Ukrayny
Hrazhdanskaja pozytsyja
Propahanda y razvytye ukraynskoho jazyka B. Hmyrey
Shevchenkyana B. Hmyry
Ukraynskaja narodnaja pesnja
Ukraynskaja pesnja v Lyvyyskoy pustyne
- Hmyrya-ansamblyst
Tvorcheskye vystuplenyja s kapelloy "Dumka"
Tvorcheskye vystuplenyja s Kapelloy bandurystov Ukrayny
Tvorcheskye vystuplenyja v soprovozhdenyy orhana
- Ukraynskye opery "Taras Bul'ba", "Zaporozhets za Dunaem", "Bohdan Khmel'nytskyy" y "Mylana"
Hmyrja – Taras Bul'ba v odnoymennoy opere N. V. Lysenko
Hmyrja – Sultan v opere "Zaporozhets za Dunaem"
Hmyrja – Kryvonos v opere "Bohdan Khmel'nytskyy"
Hmyrja – Rushchak v opere H. Y. Mayborody "Mylana"
Dyskohrafyja proyzvedenyy B. Hmyry
- Borys Hmyrja y Rossyja
B. Hmyrja y F. Shaljapyn
B. Hmyrja y D. Shostakovych
Vydajushchyesja dejately Rossyy o Boryse Hmyre
Prynadlezhnost' B. Hmyry k russkoy kul'ture. Po stranytsam Ynterneta
- Borys Hmyrja y myrovaja klassyka
- Borys Hmyrja y vlast'
- Borys Hmyrja – aktyvnyy obshchestvennyy dejatel'
- Borys Hmyrja y Lev Ostryn
- Uchenyky Hmyry
- Lektsyy-besedy B. R. Hmyry (Pekyn, Kyev, Sofyja)
- Fundamental'nye osnovy y fylosofyja vokal'noy shkoly Borysa Hmyry
- Obshchee opysanye dnevnykov
- Zakljuchenye o dnevnykakh
DNEVNYKY. 1 avhusta 1936 – 24 yjulja 1969
Dnevnyk ¹ 1. Nachat 1-ho avhusta 1936 h. po 28 dekabrja 1942 h. Opernaja dejatel'nost'
Dnevnyk ¹ 2. S 1 marta 1942 h. po 31 maja 1946 h.
Dnevnyk ¹ 3 opernoy y kontsertnoy dejatel'nosty B. R. Hmyry. Nachat 1-ho yjunja 1946 h. po fevral' 1950 h.
Dnevnyk ¹ 4. S 1 marta 1950 hoda po aprel' 1955 h.
Dnevnyk ¹ 5. S 1 maja 1955 h. po dekabr' 1959 h.
Dnevnyk ¹ 6. 1960–II–1964
Dnevnyk ¹ 7. 1964. Berezen'
Dnevnyk ¹ 8. 1968. Cherven'
ZhYZN' POSLE SMERTY
Plany B. Hmyry na 1970 hod
Ytohy opernoy y kontsertnoy dejatel'nosty Hmyry
Pys'ma ljubvy (perepyska B. R. Hmyry s zhenoy)
- Borys Romanovych – Vere Avhustovne
- Vera Avhustovna – Borysu Romanovychu
Lyteratura o Hmyre
Chto sushchestvennoho sdelano dlja uvekovechenyja pamjaty B. Hmyry v Ukrayne
Chto neobkhodymo y chto objazano sdelat' pravytel'stvo Ukrayny
Heohrafyja hastroley B. Hmyry
Poslednye kontserty B. Hmyry
Poslednye spektakly B. Hmyry
UKAZATEL' YMEN