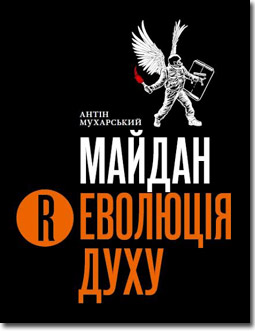 "The publication is intended for readers interested in the controversial view of the Ukrainian history, politics, and culture. The large
full-color almanac
(also, in parallel, a
black-and-white print book
has been released) is a kaleidoscope combining candid and critical perspectives of the Ukrainian Revolution of 2013-2014, emotions without cuts, and the details that were left off media screens. All of that is part of a large-scale arts and cultural project, which also includes the same-name documentary on exploits of ordinary fighters, volunteers, physicians, and civil society activists of Maidan.
Public intellectuals, social activists, philosophers, historians, writers, artists, heroes and witnesses of the revolutionary days of the Ukrainian history have in the diaries, essays, and exclusive interviews described the dark and light sides of Maidan, versions of the causes and consequences, the "white spots" and the mysterious coincidences in the events of November, 2013-February, 2014. And the summary to that is revolutionary poems by Serhiy Zhadan, Dmytro Bykov, and other famous poets." (from materials of the press release)
The publication is illustrated with around 200 photographs by Ukrainian photographers. The almanac is one of the first attempts at most complete coverage, comprehension, understanding of historical, philosophical, and cultural aspects and issues of the revolutionary days.
The style of speech and writing by the authors is preserved.
Good glossy paper has been used for the catalogue, its size is much larger than standard books and, in contrast to the black and white illustrations of "Maidan" book, the catalogue now contains color drawings and photos.
In Ukrainian.
Type of the edition: soft cover
Format: 235x315 mm
Number of pages: 304, illustrated
Publisher: Nash Format, Kyiv
Contents:
- Antin Mukharsky. Shchob pam'jataly!
- Inna Kornelyuk. (R)Evoljutsija tsinnostey
- Yelyzaveta Belska. Ljubov. Mrija. Ukrajina
1. KhRONIKA PODIY JeVROMAYDANU. VYBRANE
2. OChEVYDTsI. UChASNYKY MAYDANU:
- Mustafa Nayem. FB-shchodennyk ukrajins'koji revoljutsiji
- Dmytro Bulatov. Hosudarstvo – eto my s vamy
- Mykhaylo Havrylyuk. Ja ne khotiv, shchob moja dytyna bua rabom
- Olesya Zhukovska. Pro Maydan
- Vladyslav Kyrychenko. Black side of the Maidan
- Serhiy Koba. Do shturma Mezhyhor'ja bylo polshaha
- Volodymyr Parasyuk. Tsja natsija neperemozhna
- Serhiy Pojarkov. Revoljutsija. AvtoMaydan
- Yanholy Maydanu
3. MAYDAN. ANALITYKA:
- Taras Voznyak. Sens Maydanu
- Serhiy Datsyuk. Peredumovy ta sut' Maydanu 2013-2014
- Yaroslav Hrytsak. Ukrajina vytrymaje i tse vyprobuvannja
- Ihor Podolchak. Maydan jak VOLJa ABO SMERT'
- Andriy Portnov. Ukrajins'ka "Evrorevoljutsija". Dejaki sposterezhennja
- Yevhen Sverstiuk. Zminni vitry chasu
- Vadym Skurativsky. VIChE. Maydan
- Mykhayl Khodorkovskyy. Strana passyonaryev
4. LITERATURNYY MAYDAN:
- Yuriy Andrukhovych. Simsot ljutykh dniv, abo rol' kontrabasa v revoljutsiji
- Oleksandr Boychenko. Sutsil'na zahadka Revoljutsiji
- Andriy Bondar. Revoljutsija Voli
- Yuriy Vynnychuk. Impers'ka srachka
- Oksana Zabuzhko. Maydan. Nevyvcheni uroky istoriji
- Irena Karpa. Kil'ka kart iz peremishanoji kolody
- Andriy Lyubka. Sizifova revoljutsija
- Taras Prokhasko. Kozhnomu svoje
5. MYSTETs'KYY MAYDAN:
- Antin Mukharsky. Maydan. Mystetstvo sprotyvu
- Oleksandr Roytburd. FB-shchodennyk. Vybrane. MAYDAN 2013-2014
- Olesya Avramenko. Vohon' ljubovi
- Ivan Semesyuk. Gonzo-shchodennyk ljutoho ukrajinozhera
- Oleksa Mann. FB-shchodennyk hromadjanyna khudozhnyka
- Vlad Troitsky. Pravo na mechtu
- Les Podervyansky. U mene z'javylas' krajina
6. REVOLJuTsIYNA POEZIJa:
- Dmytryy Bykov