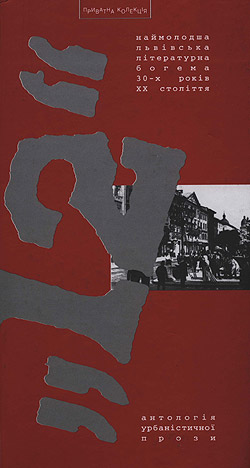 "This is a book about Lviv and "The Twelve" – Lviv group of young writers of the 1930s, which introduced into the Western Ukraine literature the striking element of streets and brightly pictured the struggle of the Ukrainian underground, while later it poetisized the city, having lifted its perception to the almost mystical apotheosis. Winning Ukrainian Lviv with their literary word, the bohemian writers of "The Twelve" not only raised new themes – depicted the life of the social skid row and boldly used the street language (including slang), but also created the new quality of the urban prose.
The publication includes the best and most characteristic prose pieces by representatives of "The Twelve" – Kurdydyk brothers, Viktor Hirny (Fed' Tryndyk), I. Chernyava, V. Tkachuk, V. Kovalchuk et al., mainly united by the theme of Lviv and the struggle of the Ukrainian underground. However, the foundation of the publication was made up by a selection of Lviv stories by Z. Tarnavsky and pieces by B. Nyzhankivsky – the famous storybook "Street" (1936), a number of short stories and a surrealistic narrative, "I Came Back to My City" – one of artistic masterpieces about Lviv of the inter-bellum period.
The book contains detailed bio-bibliographic information and lots of reviews by contemporary critics regarding the bohemian writers of "The Twelve", friendly caricatures of them and their spiritual guardians – M. Holubets and M. Rudnytsky."
In Ukrainian.
Type of the edition: hard cover, dust cover
Format: 144x270 mm
Number of pages: 344
Publisher: Piramida, Lviv
Contents:
- Vasyl' Gabor. Do istoriji l'vivs'koji literaturnoji hrupy Dvanadtsjatka
Bohdan NYZhANKIVS'KYY
VULYTsJa
- Sobacha sprava
- Stari znayomi
- Dni Stepana Haydy
- Chervonyy Jas'ko
- Chorni dni y bili nochi
- Braty
- Za tsapovu dushu
- Zustrich
- Mirko Kinakh zavahavsja
- Teroryst
- Pershyy den'
- Rab bozhyy
- Nastriy
- Zlodiys'ke sertse
POVERNENNJa DO MISTA
- Stakh
- Brat Mis'ko
- Ja vernuvsja do moho mista
Zenon TARNAVS'KYY
- Viter nad Janivs'koju
- Doroha na Vysokyy Zamok
- Ljudyna z p'jesy
Anatol' KURDYDYK
- Metsenat
Jaroslav KURDYDYK
- Blyznjuky
- Try pary ochey
- Staryy sad
Vasyl' HIRNYY
- Literaturni parodiji
- Bojahuz
Ivan ChERNJaVA
- Ekzekutsija
Vasyl' TKAChUK
- Nich u horakh
- U susidy vesillja
Volodyslav KOVAL'ChUK
- Strilets'ki psal'my
INShI BOHEMISTY
L'VIVS'KYY SLOVNYK