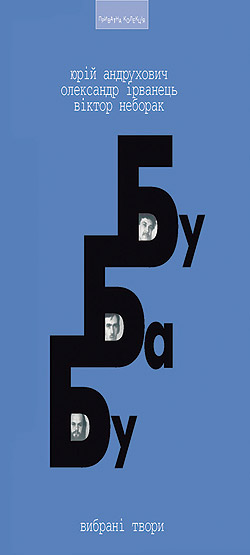 "The literary group "Bu-Ba-Bu" (burlesque, farce, buffoonery) was founded in 1985 by
Yury Andrukhovych
,
Viktor Neborak
and Olexander Irvanets. The first public soiree by "Bu-Ba-Bu" was held in late 1987 in Kyiv. The first joint book by Bu-Ba-Bu authors was published in 1995. "Bu-Ba-Bu" in general and each participant of the group in particular cause a whole range of attitudes – from allergy to orgasm. We hope that this book will not leave anybody indifferent.
The "Selected Works" by "Bu-Ba-Bu" includes the best samples of poetry, prose and essays by Yury Andrukhovych, Alexander Irvanets and Viktor Neborak with detailed bibliographic information about each author. We print the works in the authors' spelling."
In Ukrainian.
Type of the edition: hard cover, dust cover
Format: 144x270 mm
Number of pages: 392
Publisher: Piramida, Lviv
Contents:
"Jak vono bulo..." (Internet-rozmova pro "Bu-Ba-Bu")
Andrukhovych Yu. Apolohija blazenady (Dvanadtsjat' tez do sebe samykh)
Neborak V. Dekil'ka utochnen' z pryvodu napysannja zvukospoluchennja [bubabu]
Irvanets' O. Keskese bubabu?
Andrukhovych Yu. Dvi hodyny odnoho drakona
Irvanets' O. Vesna Patriarkha
Irvanets' O. Viktor – peremozhets'
Neborak V. Jurko i Sashko, Sashko i Jurko
Andrukhovych Yu. Holova, shcho litala
Andrukhovych Yu. Chas i metod
YuRIY ANDRUKhOVYCh
POEZIJa
-Pam'jatnyk
VIDChYNENNJa BALAHANU
- Kazkar
- Pisnja mandrivnoho spudeja
- Astroloh
- Alkhimija
- Romans Martopljasa
- "Vin duzhe poljubljav stare kaminnja..."
- Balada povernennja
- Vesnjanka do snu
- "A tse taka ljubovna hra..."
- Stykhiji (Madryhalyk)
- Pokhvala s'omomu tramvajevi
- Opivnichnyy polit z Vysokoho Zamku
- Promovljannja samotniy
- Try balady:
1. Lemberz'ka katastrofa 1826r.
2. Dydaktychna vystava v teatri Bohuslavs'koho
3. Nashiptuvannja vikiv
- Favstove svjato:
1. Nich
2. Zorja
3. Sumniv
- Ekzotychna roslyna – pasternak
- Rizdvjani vakatsiji
- Elehija pisljanovorichnoho ranku
SAMIYLO NEMYRYCh TA INShI BANDYTY: HALEREJa POChVAR
- Seredn'ovichnyy zvirynets':
1. Jedynorih
2. Ptakhorizka
3. Jekhydna
4. Hryfon
5. Haspyd, abo zh Did'ko
- Lypnevi nacherky podorozhn'oho (Notatky mandrivnoho spudeja Inokentija Syl'vestra Kots'koho):
"Lypy v chas dotsvitannja stojat' zoloti..." (Temnytsi)
"Ziyshovshy do richky, my vodu..." (Richka)
"Khtos' skazav: "My ne ti..." (Tsvjakharni)
"My terpljache prozhyly hodynu..." (Pyvo)
"Dozvol' meni kruzhljaty nad toboju..." (Dukh)
"Tak, nache brama – to vkhid..." (Zabuttja)
"Ja viddav by svoje rebro..." (Rebro)
"Prohuljanka kin'my – velyka pryjemnist'..." (Zamok)
"Zamok zikhodyv na zemlju vse menshymy zamkamy..." (Rynok)
"Misto nemov suzir'ja..." (Kolo)
- Kryminal'ni sonety  (Istoriji, pidslukhani v korchmi Makol'ondry):
1. Nizhnist'
2. Azart
3. Zhyttjepys
4. Mafija
5. Postril
- Zahybel' Kotljarevshchyny, abo zh Bezkonechna podorozh u bezsmertja (Prorokuvannja Abra hama fon Ashenbakha)
- Pavlo Matsapura, zlochynets'
- Pastukh Pustay, poet, barons'kyy syn
- Kozak Jamayka
- Samiylo Nemyrych, avanturnyk, posadzhenyy za gvalt u vezhu, samomu sobi
- Tsyrk "Vagabundo"
- Vol'f Messyng. Vyhnannja holubiv
- Vecherja v shablekovtacha
PATRIARShI POSLANNJa (Virshi z pryvodu ta vypalkovi)
- Do pani Varvary L.
- Pisn' pro pana Bazja
Ji- Ljamentatsija, abo zh Plach patriarkha na svjate Rizdvo R.B.1992
- Indija
PROZA TA ESEJiSTYKA
- Erts-herts-perts
- Misto-korabel'
- Ave, "Kraysler"! (Pojasnennja ochevydnoho)
- Samiylo z Nemyrova, prekrasnyy rozbyshaka
- Rekreatsiji
OLEKSANDR IRVANETs'
POEZIJa
- "Tsja zdohadka davnja, ale ne irzhava..."
- Turbatsija mas (Himn-oda "Bu-Ba-Bu")
- Do pytannja pro katehoriju chasu
- Ayne kljayne nakhtmuzik
- Korotkyy virsh pro kinets' svitu
- 1992
- Vidkrytyy lyst prem'jer-ministrovi Kanady Brajanovi Malruni ta heneral-hubernatorovi Romanu Hnatyshynu vid trudjashchykh kolhospu "Shljakh Illicha" (zakresleno) "Shljakh Il'kovycha"
- Ljubit'!
- Deputats'ka pisnja
- Virsh do ridnoji movy
- Uroky klasyky (Tsykl)
- "Perenochuy mene, vyshnevyy sade..."
- "Na perekhresti oseni y zymy..."
- Pisni skhidnykh slov'jan:
1. Ukrajins'ka pisnja
2. Bilorus'ka pisnja
3. Rosiys'ka pisnja
- Korotkyy lyst do Olesi (Z tsyklu "Lysty z Oleksandriji")
- Virsh amerykans'koho zbochentsja
- Fantazi
- Spohad pro Svitjaz'
- Lyst do Inny D. (Z tsyklu "Lysty z Oleksandriji")
- "tse ani dobre, ni pohano…"
- "Komediantko, aktorko, fihljarko..."
- "Shche odyn den' v ts'omu sviti prodytoh bez tebe..."
- "U Kyjeva – tvoje oblychchja..."
- "Khorosha moja! Pro kokhannja y nadali – ni slova..."
- Miy khrest
- Shcholita
- Robert Folkon Skott
- V rayonnomu avtobusi (Proza virshykom)
- Kolizey
- Vitryl'nyk (fantaziyne)
- "O-lja-lja – skazav Artjur Rembo..."
- Do frantsuz'koho shanson'je
- Bahatoobitsjajucha pisen'ka
- "De b ty khto b ty koly b ty jakym by ty dosi ne buv..."
- Travneva balada
- Sumniv
- Pisen'ka dlja druha
- Son
- Chumak Khokaydo
- Tin' velykoho klasyka
- Pisen'ka pro pana Vasylja
- "5 000 000 kovtajut' rankovi bul'yony..."
- Try pisen'ky amerykans'koho soldata:
1. Rekvijem-skoromovka
2. Zastil'nyy apokalipsys
3. Dembel's'ke
- Z tsyklu "Midlife crisis"
- Vyklyk likarja skasovano
- Kruk abo zh Voron (Vil'nyy perespiv z "The Reaven" E.-A. Po)
PROZA TA ESEJiSTYKA
- Svoboda: pivzhyttja potomu
- Zahybel' Holjana
- Nash vozhatyy Fredi Krjuger
- Malen'ka nichna pryhoda chy to, pak, honytva
VIKTOR NEBORAK
POEZIJa
- Bubon
ShLJaGERY
- "Khto yde..."
- "Vona pidnimajet'sja, jak holova..."
- Monoloh z psjachoho pryvodu
- Prychynna
- Pisen'ka pro pana Bazja
- Pisen'ka pro Ljalju-Bo
- Lapannja rakiv
AKADEMIChNA
- Prokhid vulytseju Akademichnoju (versija 1983 roku)
- V ochikuvanni Orysi
- Try elehiji (znaydeni v pljashtsi z-pid nevidomoho napoju)
- Volossja
- Holenyy
- Duren' (hra v karty)
- Pojidannja jabluka
- Protses "Zahybel' Atlantydy"
- Mis'kyy boh Eros (versija vulytsi Akademichnoji 1987 roku)
- "My yshly kriz' L'viv. Dovkola podykhav..."
- Vbyvstvo odynadtsjatoji hodyny
- "Doplentavshys' neznaty jak..."
- Vyrok dlja debila
- "Vidchuttja spovzajuchoji shkiry..."
- "Hnylyy zub kimnaty..."
- Koshmar z chornoju kishkoju
- Pochatok novoji ery (Zlodiys'ka balada)
- "Perednovorichna pojizdka za arfoju..."
- Istorija odnijeji zamis'koji pojizdky
- Duren' na prohuljantsi
- Majatnyk
- Katastrofa (versija vulytsi Akademichnoji zrazka 1993 roku)
PROMOVLJaNNJa TA LYSTY
- Promovljannja do kokhanky, potsuplenoji z shistdesjatykh
- Lysty, znaydeni u pljashtsi z-pid l'vivs'koho pyva
- Promovljannja do kishky
- Lyst Torvika Barakne, l'vivs'koho staroho perduna, do panny Tseliny, varshavs'koji pornozirky, napysanyy naperedodni jiji dvadtsjatydvolittja
- "Polino, jak meni ostochortily..."
- Shche odyn lyst (v Ukrajinu – z pivdnja)
- "I znovu o prykhodyt' osin' prokholodna..."
- "...Kolys' do kokhanoji..."
VIDLIT
- Na vidkhid Pavla Poprots'koho (Trots'koho), l'vivs'koho alkonavta
- Bohemna ljamentatsija (sproba proshchannja)
- Proshchannja z huru
- Profesor Pruten' ide na emeryturu i promovljaje
- Vidlit z Akademichnoji Roku Bozhoho 1997-ho
- Vechir "Bu-Ba-Bu" (Uryvky z poemy "Restavratsija")
PROZA TA ESEJiSTYKA
- Perepad(ja)
- Deshcho z l'vivs'koji mifolohiji
- Pro alkoholizm i zapiyne pyjatstvo (Zi sliv Vasylja Herasym'juka)
- Pro muzyku u L'vovi i pro l'vivs'ku muzyku
- Monoloh na vulytsi Marka
Dodatok:
- Literatura pro "Bu-Ba-Bu"