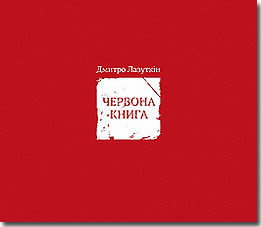 "Dmytro Lazutkin is sensitive to what is worth speaking about and knows how to pick up the right words. His poetry is interweaving of experiences and premonitions, flexible metaphors and clear images. "The Red Book" is a collection where most of the poems were composed during the last year. Each of the book's three sections has its emotional story. It's like passing through circles of hell, during which the lyrical protagonist becomes aware of signs of the past in order to get to the transparent surface reflecting sunrays."

In Ukrainian
.
Type of the edition: hard cover
Format: 200x168 mm
Number of pages: 84
Publisher: Meridian Czernowitz, Chernivtsi

Contents
:
1. Pol'ova kukhnja
- Probyto leheni ts'oho dnja
- Pol'ova kukhnja
- Sobaky repetujut' sontse skhodyt'
- Imperator nahaduje sontse
- Pavlyk
- U dni ostanni
- Rekvijem na doshch
- U tsijeji viyny je korin' – "viy"
2. Istorija pomsty
- Klonuvannja peyzazhiv nebesni mosty
- Tsi shtormovi radiokhvyli
- Moje pokolinnja prykhodyt' do tjamy
- Istorija pomsty – tse tepli rodynni stosunky
- Ostanniy. Superostanniy
- Pakystans'kyy maljuk upovil'njuje misjachne sjayvo
- S'ohodni bula zlyva
- Same zaraz
- Khochesh zbytysja z rakhunku
- Osin' zbyraje slova i lysty
- Radio dzhaz
- Na snihu ne zamerzaje krov
- Oy zasvity, misjachen'ku
- Konaje nich zhertovnym janholjam
- Slava i volja khtos' rizhe vesnu
- Ljubov vymahaje orhiy
- Vesna rozpravljaje napovneni rusla
- Vse lyshe treba zibraty dokupy
- Kolys' my stanemo zovsim inshymy
3. Botanika
- U
- Triatlon
- Freeride
- Bilyy tryptykh
- Vona z tykh divchatok jaki robljat' zavzhdy vse ne tak
- Vyklych doshch – tak letko i ne ljachno
- Botanika
- Vnochi plyvut' dereva netuteshni
- Miy prysmak v tvojemu roti
- Koly plyvla kriz' nich
- Jid' na velosypedi vulytsjamy nichnymy
- Chayky
- Divchynka vymazalasja sadzhajuchy shpalery na kley
- Dacha Lazutkina
- Vesnjanyy svitlofor
- Korablyk